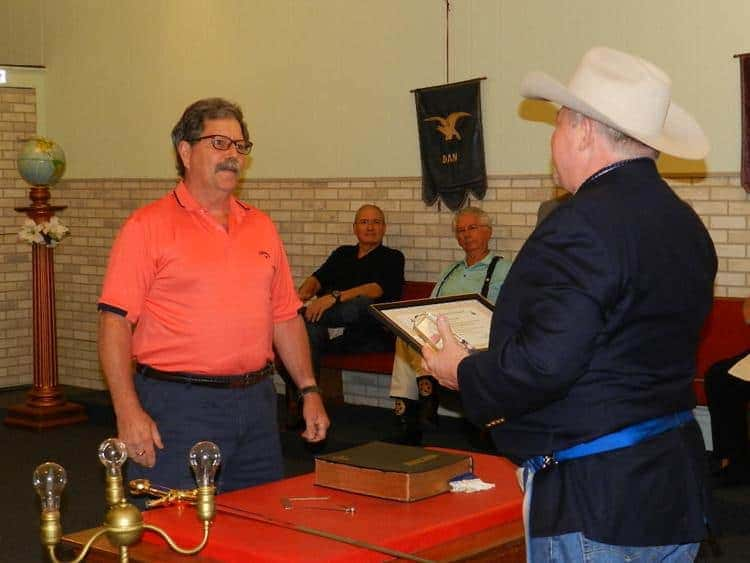 ONSTAD NAMED MORTON LODGE'S 2019 COMMUNITY BUILDER
ONSTAD NAMED MORTON LODGE'S 2019 COMMUNITY BUILDER
via the Fort Bend Herald
by: Scott Reese Willey
May 17, 2019
The Community Builder Award was designed by the Grand Lodge of Texas to enable constituent Lodges to recognize outstanding non-Masons who have distinguished themselves through their service to the community, to the lodges' local, state or national government, to their house of worship, or to humanity.
Thus, the award is presented to individuals who, although they have never been initiated into Masonry, have followed the same precepts, ideals and standards that have been established for Masonic behavior.
The 2019 Community Builder Award recipient is emblematical of those closely held masonic ideals and principles.
Born in Houston on April 25, 1953, Steve Onstad moved to rural Richmond as a young boy with his family.
The Richmond of Onstad's youth was not like the Richmond we know today.
"Moving to Richmond was a big culture shock," Steve recalled. "It was big time to go to Schultz's store to get a Coke and an ice cream sandwich."
The barn-shaped house that Onstad and his four siblings were raised in still stands today on FM 359 next to his restaurant, which is a Fort Bend landmark: The Swinging Door.
Living in the country taught Steve many lessons, the most important of which was to help your neighbors.
"Growing up, we weren't just part of a family; we were part of a neighborhood," Steve said.
"Everybody knew everybody, and one of the first things my dad taught me was that when somebody was sick or needed help, you helped out. It was standard issue to help your neighbors in times of trouble."
In 1973, Steve and his dad, Ward, built a small, wood frame business on FM 359 in anticipation of a 1,000-acre subdivision scheduled to be built by Friendswood Development in the area.
The development project fell through.Steve stood in the empty, newly built 800-square-foot shack on FM 359 in Richmond and wondered what he was going to do with the place.
The year was 1973.
A few days later, a local farmer stuck his head in the door and asked, "Y'all got anything to eat?"
"Well, what do you want?" Steve asked.
"How about a barbecue sandwich," the farmer replied.
"Come back in two weeks," Steve replied.
The Swinging Door opened on Labor Day in 1973.
That seemingly innocuous question asked by a now long-forgotten farmer would forever change the community and ultimately enrich the lives of countless people in Fort Bend County.
By the mid-1970s, Steve had turned The Swinging Door into one of the Houston area's most famous barbecue joints.
Bum Phillips, head coach of the "Luv Ya Blue"-era Houston Oilers, lived nearby and brought players and coaches there every Thursday for "strategy sessions" (mostly beer drinking).
Local oil companies were flush with cash, and Steve cleared two nearby fields so executives could fly their helicopters in for business lunches.
Later, during the "Urban Cowboy" craze of the 1980s, Steve added a dance hall that became a famous destination for Houston's jet set who didn't want to bother with the crowds at Gilley's in Pasadena.
The Monday Night Football crew — Don Meredith, Howard Cosell and Frank Gifford – all came out to The Swinging Door, and Earl Campbelll spent the night celebrating after he became a Houston Oiler at the Richmond institution with buddies.
Steve's friend, Dan Pastorini, brought a special guest to the 'Door one night when he was on a date, and the restaurant was closed for a private party. Steve led the party of two to the back, and his customers nearly fell out of their chairs when those two walked in." Pastorini's date was in incomparable Farrah Fawcett.
Other special moments during Steve's career revolve around his long list of community service.
A past president and member of Rotary Club of Richmond for nearly 40 years, Steve has made his mark with food not only at The Swinging Door, but at charity events for years.
One of the Rotary Club's largest fundraisers each year is selling turkey legs at the Fort Bend County Fair during the 10-day event, and Steve is the man in charge.
A fellow Rotarian said, "Steve almost unilaterally gets everything together for our booth at the fair — supplies, food, equipment literally everything."
She adds, "Steve's generosity and willingness to do anything for the community and our charitable organizations is what makes him special. He's not afraid of hard work and will roll up his sleeves to help out whenever he can."
Steve is a member of numerous philanthropic organizations and has served or currently serves as a board member of many others.
But the groups that have had the most impact on Steve have been his involvement with organizations supporting individuals with disabilities.
Steve hosted a bowling banquet for Richmond State Supported Living Center for over 10 years.
The residents traveled to a bowling alley then out to The Swinging Door for a good time.
Steve was profoundly moved by the joy he brought into the lives those very special people.
When he's not volunteering or running his restaurant, he's acting as a mentor for the over 1,500 people — many young — who have worked at The Swinging Door over the years.
"Impacting youth in a positive way during their formative years is a special thing," Steve said.
"I take pride in the fact that I have former employees introducing me to their children telling them that when they get old enough to work, this is the first place they would let them work."
Many of Steve's former employees have expressed their appreciation as a positive influence on their lives, and some of his employees are third generation employees.
While Steve has served as a role model to many, his role model was his dad.
Steve notes, "Dad was a worker; he believed in hard work and getting it done. That's how he had to live, and that's how he raised five kids. We were well taken care of, but he sacrificed a lot so we could have the things we had."
Steve's philosophy of service is straightforward and shares, "I've always been willing to help out when I could for the right cause, and I tried my best to make a positive difference in the community."
For over 45 years, Steve has generously given his time and treasure to those in our community that need it most.
Steve truly embodies all three of the non-negotiable tenets in Freemasonry: Faith, Hope and Charity.